Radiesse®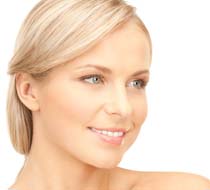 Is Radiesse® right for you?
Schedule a complimentary consultation.

Radiesse® is a popular dermal filler injection that can erase years from your face through restoring lost volume due to aging. It is also highly effective for filling depressed scars and for making the hands look more youthful.

Made of microspheres of calcium hydroxylapatite suspended in a gel carrier, Radiesse® stimulates the body's own collagen production and is clinically proven to last as long as a year in some patients. Calcium hydroxylapatite is a component found in bone and teeth, so no allergy test is required.

The skill of your injector is vital for a natural-looking result. Your injector must have the training and experience to know the proper dosage and where to place the injections. At Comprehensive Dermatology Center of Pasadena, we have many years of experience with Radiesse® and other dermal fillers. We know how these products work in the skin and can recommend whether Radiesse® or a combination of fillers will give you the look you want.
What Can Radiesse® Do For Me?
Radiesse® is much like a non-surgical face lift for people with mild to moderate effects of aging. It can:
Diminish nasolabial folds (smile lines) from the nose to the mouth.
Smooth marionette lines from the mouth to the chin.
"Lift" a pre-jowl condition or slight sagging of the jawline.
Contour the cheeks and/or chin.
Lift sagging mouth corners.
Fill hollowing of the temples.
Fill depressed scars.
Correct nasal defects.
Restore lost volume and hide bulging veins in the hands.
What is a Radiesse® Treatment Like?
A small needle is used to inject Radiesse®, and the formula includes Lidocaine, which helps to numb the injection areas. We also apply a topical anesthetic to ensure your comfort.
Including the time required for the topical anesthetic to take effect, your appointment for Radiesse® injections should last no more than an hour.
How Long Do Radiesse® Results Last?
Radiesse® is a long-lasting wrinkle filler, but it is not permanent. In many patients, the results last as long as a year or even longer in some cases.
What Will I Experience While Recovering From Radiesse®?
You can return to work and other normal activities immediately after your Radiesse® appointment. You may experience some minor bruising and swelling at the injection sites, however, which usually last 3-10 days. Any discoloration can be covered with makeup.
Small lumps may appear at the injection sites. These are usually invisible and will resolve in a short time. You will be instructed how to massage the lumps to help the product disperse.
You can see some results of Radiesse® immediately, and these results will continue to improve as your body produces more collagen.
Facility
Our treatment suites are equipped with the latest dermatological lasers, for advanced, safe, comfortable treatment of your skin's medical and cosmetic needs. Our in-house Acne Treatment Center offers complete care for all ages and acne stages. We offer a full line of skin care products designed to suit your unique...
View More