Morpheus 8 in Pasadena, CA: Microneedling With RF
Over time, our skin ages to become less vibrant and pliable. For some of us, we end up with wrinkles and lines. Others experience sagging in their skin that occurs as the body naturally produces less of the compounds that keep the skin looking young, such as collagen and elastin. The texture of the skin changes over time as well, thinning or thickening in parts of the face and neck. Some people also have scars from acne or other skin trauma. Regardless of our particular skin problems and age, we would all like to having youthful, firm, and glowing skin that looks healthy and radiant.
Fortunately, medical and technological advances have created a vast array of treatment procedures that can significantly enhance the appearance of the skin. One of the very latest advances has led to the creation of the state-of-the-art Morpheus 8 treatment. This safe and highly effective device can be used to stimulate collagen and new cell production and reshape the underlying architecture of the skin to reveal a smoother, more youthful silhouette. It has also been shown to greatly improve the appearance of scar tissue and stretch marks.
At Comprehensive Dermatology Center of Pasadena, we are committed to bringing you the latest in technology and treatment techniques to give you the best skin possible. Our board-certified dermatologists are expertly trained in the latest devices to offer you the chance to have superior results and the beautiful skin you want!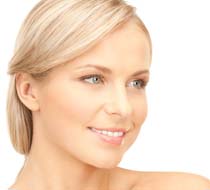 Achieve Beautiful Skin With Morpheus 8
Schedule a complimentary consultation.
How Does Morpheus 8 Work?
Morpheus 8 is a handheld treatment device that combines microneedling (the use of many tiny needles that puncture the skin at once) with radio frequency (RF) stimulation. This particular combination is extremely effective at stimulating and changing the skin in several ways.
First, microneedling of the skin creates extremely small puncture wounds over the treatment area. The skin itself is stimulated to heal; this healing process includes signaling molecules that cause the production of new skin cells. It also creates a cascade in the tissue that leads to the skin building new collagen and elastin molecules and increasing the overall content of these compounds in the skin.
Because of the combination of techniques, Morpheus 8 will affect the epidermis, the dermis, and the underlying fat layer for impressive results. Best of all, Morpheus 8 is safe to use on all skin types!
Because of the combination of techniques, Morpheus 8 will affect the epidermis, the dermis, and the underlying fat layer for impressive results. Best of all, Morpheus 8 is safe to use on all skin types!
The Benefits of Morpheus 8
You will likely notice improvements to multiple aspects of your appearance. Through its powerful skin-tightening functions, Morpheus 8 can reduce the appearance of jowls or sagging skin that hangs below the jawline. Similarly, it can be used on the cheeks and below the eyes to improve wrinkles and loose skin in this area. Many patients have also experienced excellent results with the use of Morpheus 8 to minimize scar tissue and alleviate stretch marks. Because the device stimulates new cell and collagen production, you can also expect to see fully rejuvenated skin that has more even tone and texture.
Will the Morpheus 8 Treatment Hurt?
Most patients describe their treatment as quite comfortable. We will apply a topical anesthetic to the area to be treated prior to your session, and this will reduce the sensation in the skin. After the anesthetic has had time to work, your treatment session will begin. We strive to ensure the comfort of our patients and will use our available resources to make sure you have a pleasant experience. You should feel only a mild warming sensation from the RF and the feeling of the microneedles will also be significantly reduced.
Your clinician will likely make markings to the target area to help in guiding placement of the handpiece during the procedure. Treatment time will vary depending on the size and location of the area to be treated, but you can expect to be done in less than an hour.
What Should I Expect During Recovery from Morpheus 8?
Most patients experience some redness and swelling to the area that will subside within a day or two. Some patients experience slight bruising of the skin. Additionally, the microneedling may create tiny scabs that will peel off as your skin heals. Depending on whether you are combining Morpheus 8 with other treatments, you can expect to wear makeup and return to normal activities within a day or two; the combination of Morpheus 8 with other treatments may increase the time necessary to fully heal by several days.
Your results will become more noticeable over time as your tissue reshapes itself. You can expect visible results after only one treatment, but many patients can benefit from a series of treatments. When you come in for your consultation, we will be able to make recommendations about the number of treatments necessary based on variables within your skin, such as texture, tone, and laxity, and your desired outcomes.
Morpheus 8 Cost
When comparing skin-tightening procedures, Morpheus 8 cost is much more affordable than surgical remedies. Our Morpheus 8 microneedling does not involve a general or intravenous anesthetic, which is necessary during cosmetic surgery. The RF microneedling treatment is a relatively quick in-office appointment at our comfortable Pasadena clinic.
Expect to pay around $1600 for a full face skin-tightening treatment. For invaluable expertise and optimal results, you should seek the services of a board-certified dermatologist.
Morpheus 8 Microneedling FAQs
Is Morpheus 8 painful?
We can use a topical numbing cream or Pro-Nox (laughing gas) to make your RF microneedling treatment as comfortable as possible.
How often should I resturn for Morpheus 8 microneedling maintenance treatments?
We recommend a series of treatments 5-6 weeks apart for best results.
Does Morpheus 8 work on stretch marks?
Yes. Morpheus 8 RF microneedling is effective in diminishing stretch marks.
Why are the microneedles adjustable?
By changing microneedle depth, we can customize Morpheus 8 for your unique cosmetic concerns. For example, we can modify the treatment to address loose skin, deep wrinkles, crow's feet, forehead crevices, undereye bags, vertical lip lines, jowls, and large pores.
With age, you may lose jawline definition, developing jowls, a double chin, or the dreaded turkey wattle. Morpheus 8 addresses these aesthetic issues and enables you to regain a youthful appearance.
How long do Morpheus 8 benefits last?
New collagen takes approximately 28 days to regenerate. During this time, your skin will be remodeling itself deep within the subcutaneous tissue. After one Morpheus 8 session, expect to enjoy your improved appearance for up to three months. At that point, you may opt for a second session to enhance results. Optimal results last three years after your last session.
How long is the downtime?
The downtime after Morpheus 8 is three days. If you have the treatment on a Friday, you should be fine to return to your daily routine by Monday. Make sure you employ a medical-grade moisturizer and SPF sunscreen before going outdoors.
How is Morpheus 8 different from microneedling?
Morpheus 8 differs from traditional microneedling thanks to its use of radiofrequency energy. By combining radiofrequency with microneedling technology, Morpheus 8 tightens and plumps the treated skin for youthful skin textures and tone.
If you want to know more about our minimally-invasive Morpheus 8 treatment for skin tightening and rejuvenation, contact us at the Comprehensive Dermatology Center of Pasadena at 626.793.7790 to schedule your consult today.
Facility
Our treatment suites are equipped with the latest dermatological lasers, for advanced, safe, comfortable treatment of your skin's medical and cosmetic needs. Our in-house Acne Treatment Center offers complete care for all ages and acne stages. We offer a full line of skin care products designed to suit your unique...
View More