FotoFacial Rejuvenation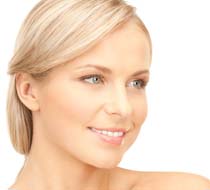 What can a FotoFacial do for you?
Schedule a complimentary consultation.

FotoFacial treatments are full face, neck, hands or body treatments using Intense Pulsed Light and Radiofrequency energy combined in the same pulse. The FotoFacial RF procedure is delivered through a special hand piece, which uses proprietary Electrocal Optical Synergy (ELOS) technology. ELOS marries all benefits of intense pulsed light and optical energy for the treatment of vascular and pigmented discolorations with the wrinkle and tightening benefits of radio frequency (RF) energy. Each pulse of the FotoFacial RF device sends two types of energy into your skin, Intense Pulsed Visible Light and radiofrequency energy that acts synergistically to enhance the skin. Once delivered, the light energy is absorbed by the targeted damaged tissue, which lessens or eliminates brown spots, wrinkles, blood vessels, redness, and more. This treatment absorbs the blood, removing pigmented lesions and allowing the pigmented area to darken and flake off. The Radiofrequency energy also produces significant amounts of collagen and elastin in the dermis resulting in significant smoothing of fine to moderate wrinkles and textural
irregularities of the skin.

A FotoFacial is a procedure for removing discoloration of the skin which creates an even and natural appearance. Fotofacial uses light therapy to diminish or fully eradicate the appearance of facial flushing, broken capillaries, rosacea, redness, age or liver spots, freckles, minor sun damage, fine lines, and enlarged pores. FotoFacial is a great alternative to more expensive skin treatments as the procedure is non-surgical and requires no downtime. These gentle treatments are used to improve your cosmetic appearance and after your procedure, you should follow your home care instructions, avoid any harsh skin cleansers, and always use sunscreen.
FotoFacial RF Overview
Unlike lasers that are composed of light of one wavelength, FotoFacial delivers pulses of light of multiple different wavelengths enabling it to address several skin conditions simultaneously. It was designed to restore the softness and radiance of your skin without the side effects associated with traditional resurfacing modalities. Radiofrequency uses heat to induce collagen contraction and subsequent skin tightening. In combining Intense Pulsed Light and Radiofrequency energy into one treatment, FotoFacial RF treatments offer the very latest and most effective non–invasive form skin enhancement. FotoFacial RF is the first and only machine to combine intense pulsed light with radiofrequency for maximum safety, effectiveness, and comfort.
Once you decide a FotoFacial treatment plan might be right for you, your dermatologist will answer all of your questions, provide an in-depth explanation of the FotoFacial procedure, and outline a custom treatment plan perfectly suited to meet your skin needs. For best results, it is recommended that you use a sun block with a SPF of 60 or higher and avoid direct sunlight throughout the course of your treatment. You will also want to avoid any lotions, creams, and makeup, perfume or any other chemicals or skincare products on the areas to be treated. These can impede the transmission of light, reducing the effectiveness of the FotoFacial treatment.
What Should I Expect After FotoFacial?
After your FotoFacial treatment, most patients notice a consistent improvement in the appearance of their skin. The degree of improvement is gradual and persistent over the 15-18 week program and five to six FotoFacial RF treatments. The degree of improvement can vary but averages 50% to 75%.
Significant changes that have been reported include major improvements in:
Spider veins
Pink and brown blemishes
Rosacea
Age spots
Enlarged pores
Acne scarring
Wrinkles
Sun-damage
At the completion of your FotoFacial RF program, your skin will have achieved a noticeable and consistent degree of improvement that over 90% of patients are very happy with. Most FotoFacial RF patients are satisfied in maintaining the skin enhancements they achieved from their initial procedure and this means a single maintenance treatment is recommended every two to four months to keep your skin looking young. If you desire greater results, call us at Comprehensive Dermatology Center of Pasadena and we will be happy to discuss additional treatment plans that can be combined with your FotoFacial regime.
Facility
Our treatment suites are equipped with the latest dermatological lasers, for advanced, safe, comfortable treatment of your skin's medical and cosmetic needs. Our in-house Acne Treatment Center offers complete care for all ages and acne stages. We offer a full line of skin care products designed to suit your unique...
View More