Hydrafacial
Today's beauty market is flooded with facial rejuvenation treatments, and it can be confusing to know which treatments may be best for your skin and aesthetic goals. All patients are unique, and everyone has different skin imperfections, but there are general treatment steps from which people of all skin types can benefit.
HydraFacial combines the latest in medical technology with recent advances in clinical skin care to accomplish these steps and leave your skin feeling clean, hydrated, and vibrant. This facial treatment has become wildly popular all over the globe because it routinely delivers superior results. In fact, more than 2 million treatments were performed in 2018 alone! Expect to receive the best facial of your life when you come in for your HydraFacial treatment.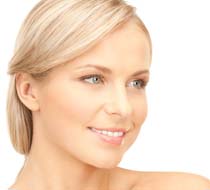 The Best Facial of Your life – HydraFacial in Pasadena
Schedule a complimentary consultation.
How Does the Hydrafacial work?
The HydraFacial utilizes a patented, 3-part treatment regimen with a state-of-the-art hydradermabrasion device. In some ways, hydradermabrasion is similar to microdermabrasion in that it uses force and movement to help remove the outermost, dead layer of skin cells. With hydradermabrasion, however, the device uses a water-based solution to "abrade" the skin instead of the rough treatment applicator or fine particles used in microdermabrasion.
Each part of the 3-step regimen was developed with a purpose in mind to achieve a specific result, combining with each other to give you beautiful, freshened skin in a single treatment that takes less than an hour to complete! Below, we describe in detail each of the 3 steps:
Part 1: Cleanse and peel the outermost layer of the skin
HydraFacial employs a water-based solution that moves through our hydradermabrasion device and across your skin. Movement of the solution over the skin through the device creates a gentle cleansing and exfoliation of the outermost layer of skin cells, removing dirt, oils, and dead cells. The fluid movement of the liquid solution creates a deep cleanse and peel without irritating the skin, which occurs frequently with other chemical-based or abrasive exfoliating procedures.
Part 2: Extract dirt from pores and hydrate your skin
HydraFacial creates a gentle suction over your skin during the treatment, extracting dead skin cells, dirt, and oil from clogged pores. In contrast to other extraction methods, this approach is much softer but still effective, deeply cleansing the pores without damaging the skin. During this step of the treatment, your skin is also bathed in our award-winning serums that will fully hydrate your skin and create a youthful, dewy glow in your face.
Part 3: Protect your skin
The solutions and serums that are applied to your skin during HydraFacial contain many extremely high-quality compounds that have been approved by the FDA and demonstrated to effectively hydrate and protect your skin.
What Sets HydraFacial Apart from Other Clinical Facials?
HydraFacial is extremely effective in cleansing, exfoliating, and hydrating your skin. Even though it has been shown to give amazing results, it is among the gentlest of the facial treatments we offer. In fact, you can expect that you will not have any unsightly redness or swelling after the procedure, and there is absolutely no downtime following your HydraFacial. You will leave our office feeling fully rejuvenated!
The Benefits of HydraFacial
Our patients have seen so many improvements to various aspects of their skin after Hydrafacial treatment. When you choose HydraFacial treatment, you will likely experience:
Reduced fine lines and wrinkles in the areas around the eyes, forehead, mouth, and cheeks
Enhanced skin firmness and elasticity
Evened skin tone and improved vitality
Smoother texture of the skin
Darkly pigmented age or sun spots reduced or entirely removed
Decreased oiliness in the skin
Unclogged and minimized pores
HydraFacial MD is Fully Customizable
While the basic steps are the same for every HydraFacial treatment, this does not mean that all patients get the exact same facial. In fact, your HydraFacial can be fully customized to address your specific concerns if you have a particular issue or problem area. Tailoring each HydraFacial to each of our patients is achieved with a wide range of "boosting" medical-grade serums that have been specifically formulated to address individual concerns. All of our serums have been developed with only proven ingredients, and they all contain the highest-quality clinical products available on the market. Here are some of the options for boosting serums:
Brightalive® Boost
This product was developed to brighten your skin tone and decrease the appearance of any discolorations you may have. It contains a unique mix of skin brighteners that block the production of melanin plus glycerin to restore hydration and help the skin to retain its moisture. With Brightalive® Boosting Serum, you will get an instantly gratifying glow!
Growth Factor Boost
Our Growth Factor Boost serum contains growth factors or compounds that regulate cellular regeneration processes. These growth factors play an important role in healthy skin function and structure, and you can expect an even greater reduction in fine lines and wrinkles when you choose this boosting serum.
Dermabuilder™ Boost
Our Dermabuilder™ Boost is usually chosen by patients who want to address fine lines and even their skin tone and texture.  It contains a proprietary blend of peptides that have been shown to be effective skin conditioning agents that will hydrate, firm, and smooth your skin.
Britenol™ Boost
Britenol™ Boost targets sun spots and dark areas that appear on your skin when it is sun damaged. It contains bearberry extract and Vitamin C, which have been proven to reduce the appearance of pigmented spots and enhance the overall brightness of the skin.
You will discuss your concerns and goals when you come in for your consultation, and we will make sure you get exactly the compounds that are right for you so you can expect the best possible outcome – beautiful, revitalized skin!
If you'd like to regain your youthful glow and get noticeable, instant results, contact Mary Lou at the Comprehensive Dermatology Center of Pasadena at 626.793.7790 to schedule your HydraFacial treatment today. We offer only proven treatments in a spa-like setting that creates a wonderful patient experience and excellent outcomes!
Facility
Our treatment suites are equipped with the latest dermatological lasers, for advanced, safe, comfortable treatment of your skin's medical and cosmetic needs. Our in-house Acne Treatment Center offers complete care for all ages and acne stages. We offer a full line of skin care products designed to suit your unique...
View More