LASER HAIR REMOVAL IN PASADENA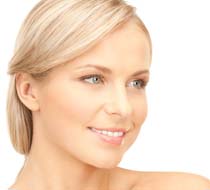 Have unwanted hair?
Receive a complimentary consultation for Laser Hair Removal.
Laser hair removal is a cosmetic procedure that uses concentrated light beams to remove undesirable hair.
A laser emits light energy, which the pigment in the hair absorbs. The heat from the laser damages the hair follicles, thus delaying or inhibiting future hair growth.
Though laser hair removal impedes hair growth for long periods, it typically is not a permanent solution. Multiple laser hair removal treatments are necessary for initial hair removal, and you may require maintenance sessions. Laser hair removal is most effective for people with dark hair and lighter skin tones, but it can be successful on all skin types.
Laser hair removal is a popular procedure for men and women. For men, common treatment areas are the back, chest, face, and neck. Women most often opt to have the procedure on the abdomen, bikini line, legs, underarms, face, and upper lip.
Laser hair removal is the ultimate hair removal treatment. It uses high-intensity laser light to find and destroy hair follicles with heat. Laser light finds hair by its color or pigment. The darker and coarser the hair color, the easier the laser can pinpoint the follicles and destroy their ability to grow. The laser cannot remove gray or white hair.
At Comprehensive Dermatology Center of Pasadena, we only use FDA-approved lasers cleared for long-lasting hair reduction, which means reduction over time and after a series of treatments.
What Can Laser Hair Removal Do For Me?
Laser hair removal significantly reduces hair growth on most body areas, making it the fastest method of hair removal. It is also less painful than most hair removal methods, including shaving, waxing, plucking, and electrolysis. It can lessen the need for shaving or make it unnecessary in some cases.
While there is no permanent method for 100% hair removal, most people see a 60 to 80% overall reduction of hair in the treated areas. Any hair that grows back is usually light, soft, and much less noticeable.
The risk of skin damage is more significant when there is little contrast between skin color and hair. Still, advances in laser technology make laser hair removal an excellent option for women and men who have darker skin. Unfortunately, laser hair removal is less effective for colors that don't absorb light well – red, gray, white, and blond. However, manufacturers continue to work on developing successful laser treatments for light-colored hair.
How to Prepare
If you are considering laser hair removal, choose a board-certified dermatologist with experience with laser hair removal for your particular skin type. If a physician assistant or licensed nurse does the procedure, make sure a dermatologist supervises and is available during the treatment. Also, be wary of salons, spas, or other facilities that do not employ medical professionals for hair removal.
At Comprehensive Dermatology Center of Pasadena, we provide detailed instructions to help you prepare for laser hair removal. These may include the following.
Shaving treatment area: We recommend shaving and trimming the day before our hair removal treatment. The goal is to remove hair above the skin, while leaving the hair shaft intact below the skin surface.
Stay out of the sun: Follow our advice for preventing sun exposure before and after treatment. Whenever you go outdoors, liberally apply an SPF30+ sunscreen.
Avoid lightening your skin: Don't use tanning creams to darken your skin. We may prescribe a bleaching cream if you have darker skin or a recent tan.
Avoid other hair removal options: Waxing, plucking, or electrolysis could disturb hair follicles beneath the skin and upset results. Stop doing any of these activities at least four weeks before laser hair removal.
Avoid blood thinners: Do not use aspirin or anti-inflammatory medications before laser hair removal treatment. Ask us about what medicines are safe and unsafe ahead of your procedure.
What is Laser Hair Removal Like?
After we apply a cooling gel to your skin, your provider passes the laser device over the treatment area. It feels similar to the snap of a rubber band. The length of each appointment depends upon the size of the treatment areas.
We will provide special goggles for each treatment to protect your eyes from the laser light beam. We may shave the treatment area again if necessary. In addition, you may receive a topical skin anesthetic to reduce discomfort during the session.
When your doctor activates the laser, the light beam will penetrate your skin to influence hair follicles. The deep heat from the laser beam deters future hair growth.
Treating smaller areas, like the upper lip, might take only a few minutes. However, treating a larger area, like the back, might take an hour or more.
To affect as many follicles as possible during the correct part of the growth cycle, most people need treatments every four to six weeks. The average patient requires six to 10 treatments.
How Long Do Laser Hair Removal Results Last?
There is no permanent method of hair removal method, but some hair may never return after laser hair removal. There is no way to predict how long the hair will remain gone, as some individuals see very long-term effects that last for many years, while others require maintenance treatments over time.
What Will I Experience While Recovering From Laser Hair Removal?
No downtime is necessary after laser hair removal, but the skin of the treated area may feel as though you have a slight sunburn. This tenderness usually resolves within a day.
Your skin will be more vulnerable to sunburn after laser treatment, so it is critical to wear sunscreen when outside and avoid tanning beds.
Facility
Our treatment suites are equipped with the latest dermatological lasers, for advanced, safe, comfortable treatment of your skin's medical and cosmetic needs. Our in-house Acne Treatment Center offers complete care for all ages and acne stages. We offer a full line of skin care products designed to suit your unique...
View More