Kybella®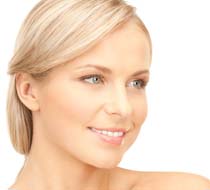 Interested in Kybella®?
Schedule a complimentary consultation today.
Many men and women look in the mirror and wish they could wave a magic wand to make that little pocket of fat underneath their chin disappear. A double chin, known as submental fat in cosmetic dermatology, is a pesky little imperfection that may be the result of weight gain, weight loss, natural factors of aging, or simply bad luck in the genetic lottery. It can make you unhappy with your profile and jawline, and until a few years ago, surgery was usually required to remove a double chin. At the Comprehensive Dermatology Center of Pasadena, we're proud to offer our patients a new alternative to surgical double chin removal called Kybella®
Kybella® is an injectable cytolytic drug used to break down and destroy fat cells in the chin area. Kybella® appointments are relatively quick, there is little to no downtime after your treatment, and your treatment plan won't require you to schedule your life around an invasive surgery.
At the Comprehensive Dermatology Center of Pasadena, we begin each Kybella® treatment plan with a thorough, complimentary consultation. If you're ready to learn more about this exciting, safe cosmetic injectable treatment, please contact our Kybella® experts at (626) 793-7790, or send us a message through our website.
What Is Kybella®?
Kybella® was approved by the U.S. Food and Drug Administration (FDA) in 2015 and is produced by Allergan, one of the leading cosmetic injectable companies also famous for popular brands such as Juvéderm® and BOTOX®. For many people who have a double chin, liposuction or surgery may not be an option, or it may seem like too big of an inconvenience for such a minor facial imperfection. That's where Kybella® comes in. In just 2-6 treatments, our team of cosmetic dermatology experts can use Kybella® to dramatically reshape your jawline and improve the appearance of your profile by destroying the excess fat cells in your chin and jawline areas.