Microneedling With SkinPen in Pasadena, CA
Microneedling with SkinPen is a skin rejuvenation treatment that can improve skin texture, and reduce wrinkles, shrink pores, and smooth scars. At Comprehensive Dermatology, we use SkinPen technology, an advanced microneedling device, to stimulate collagen production and skin cell turnover for a smoother, plumper complexion.
The SkinPen penetrates the skin with tiny needles, creating slight wounds that trigger the body's natural healing mechanisms. For wrinkles and scarring, the needles might need to penetrate deeper. While we can apply a topical anesthetic to make the treatment more tolerable, the process is not painful.
While most people choose to have their faces treated with SkinPen, this revolutionary device can address most body parts.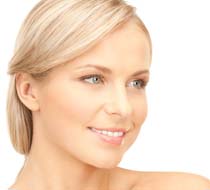 Improve your skin with SkinPen.
Click for a complimentary consultation.
What Can Microneedling Do for Me?
Microneedling can:
Improve skin tone and texture
Smooth superficial facial and lip wrinkles
Shrink enlarged pores
Minimize scars, including acne scars
Create glowing skin
What Is a SkinPen Microneedling Treatment Like?
The SkinPen device is like a reset for your skin. It offers remodeling by creating microscopic channels to activate your body's natural healing process, producing new collagen and elastin that allow your skin to look healthier, younger, and more radiant.
SkinPen is ideal for treating acne scars, fine lines, and wrinkles. Other benefits include the following.
It's quick and easy with minimal downtime and can provide a visible improvement in as few as three sessions.
It stimulates collagen and elastin production without chemicals or heat.
It's a high-precision treatment that addresses cosmetic concerns on the face, neck, and chest.
Pairing microneedling with platelet-rich plasma taken from your blood can provide even better results.
Three to five microneedling sessions spaced four to six weeks apart can reduce the signs of premature aging.
SkinPen Aftercare
Here is some helpful information to review before having SkinPen microneedling:
Avoid direct sunlight and extended sun exposure.
Apply a generous amount of sunscreen each time you go outdoors.
Keep skin moisturized and allow it to shed naturally.
Avoid benzoyl peroxide serums and products with vitamins E, C, and retinol A for two days post-treatment.
Avoid physical activities that make you sweat for 72 hours after SkinPen.
Avoid saunas, swimming pools, steam rooms, and Jacuzzis for five days after microneedling.
More Information for SkinPen Care
SkinPen Microneedling FAQs
How long do microneedling results last?
Scarring results are permanent. Of course, wrinkles, texture issues, and enlarged pores can return over time, but the effects of the SkinPen are long-lasting.
What will I experience during SkinPen microneedling recovery?
While no downtime is technically necessary after microneedling, you may experience some redness and swelling if you have had a deep treatment. The sensation will be akin to a sunburn for a few days. On the other hand, if you have had a superficial treatment, you may experience only a slightly pink appearance or no aftereffects at all.
Facility
Our treatment suites are equipped with the latest dermatological lasers, for advanced, safe, comfortable treatment of your skin's medical and cosmetic needs. Our in-house Acne Treatment Center offers complete care for all ages and acne stages. We offer a full line of skin care products designed to suit your unique...
View More