Micro-Needling with DermaPen®
Micro-needling or skin needling is a skin rejuvenation treatment that can improve skin texture, reduce wrinkles, shrink pores, and smooth scars. At Comprehensive Dermatology, we use DermaPen®™ technology, which is an advanced micro-needling device that stimulates the production of new collagen and new skin cells, plumping the skin and making it fresher and smoother.
The DermaPen® works by penetrating the skin with tiny needles, creating minute wounds that kick in the body's own healing efforts. For wrinkles and scarring, the needles might need to penetrate a little deeper. While it may sound painful, a topical anesthetic or other anesthetic means are used to keep you comfortable during the treatment.
While the face is usually treated with the DermaPen®, the device can be used on most any area of the body.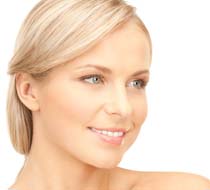 Improve your skin with DermaPen®.
Click for a complimentary consultation.
What Can Micro-Needling Do For Me?
Micro-Needling can:
Improve skin texture
Improve skin tone
Smooth superficial facial and lip wrinkles
Shrink enlarged pores
Smooth scars, including acne scars
Create glowing skin
What is a Micro-Needling DermaPen® Treatment Like?
The depth of penetration of the DermaPen® will depend on what you wish to treat. If you have scarring, for example, the needles may need to go deeper. In that case, we will discuss anesthetic options with you before your procedure. If you simply wish to improve your skin's texture and tone, the penetration will be superficial enough that a topical anesthetic will be sufficient. In some cases, no anesthetic is needed at all.
How Long Do Micro-Needling Results Last?
Scarring results are permanent. Wrinkles, texture issues, and enlarged pores can, of course, return over time, but we find that the effects of the DermaPen® are long-lasting.
What Will I Experience While Recovering From a Micro-Needling DermaPen® Treatment?
While no downtime is technically required after Micro-Needling, if you have had a deep treatment, you may experience some redness and swelling. The sensation will be similar to a sunburn for a few days. If you have had a superficial treatment, you may experience only a slight pink appearance or no after-effects at all.
Facility
Our treatment suites are equipped with the latest dermatological lasers, for advanced, safe, comfortable treatment of your skin's medical and cosmetic needs. Our in-house Acne Treatment Center offers complete care for all ages and acne stages. We offer a full line of skin care products designed to suit your unique...
View More