SmartSkin® CO2 Laser Skin Renewal
Treatment with the SmartSkin® CO2 Micro-Ablative Laser Skin Renewal system provides significant, long-lasting repair and rejuvenation with considerably less discomfort and downtime than surgical procedures or even traditional ablative laser treatments. This system treats scars and advanced signs of aging, as well as a variety of other challenging skin conditions.
The SmartSkin® CO2 laser combines laser resurfacing, collagen stimulation, and skin tightening technologies in one treatment modality. It is completely customizable to your skin's unique needs, your expected results, and your downtime scheduling.
The targeted laser light and focused deep tissue heat speeds the loss of damaged skin, triggering the turnover of healthy new skin cells and stimulating production of your own natural collagen to restore youthful contours.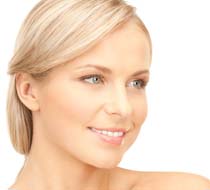 Interested in Laser Skin Renewal?
Click to schedule a complimentary consultation.
How Does Skin Resurfacing With SmartSkin® CO2 Work?
SmartSkin® CO2 is more than skin resurfacing – it's profound skin rejuvenation. By using fractional laser resurfacing, the SmartSkin® CO2 laser can reduce the appearance of wrinkles, sunspots, pores, fine lines, and acne scarring. The laser treats the skin one microscopic portion at a time, ensuring it does a thorough job on each portion of skin and without any harsh damage.
What Can SmartSkin® CO2 Laser Skin Renewal Do For Me?
The SmartSkin® CO2 laser can treat:
Deep wrinkles
Visible skin damage
Poor skin texture
Actinic keratoses
Solar lentigines
Acne scars
What is a SmartSkin® CO2 Laser Treatment Like?
We use oral pain medication and anesthetic injections to ease discomfort. The laser device glides over your skin, and a series of three treatments is required for optimal results, These are usually scheduled several weeks apart, but each patient's treatment schedule is unique.
What Makes SmartSkin® CO2 Unique From Other Skin Resurfacing Procedures?
Carbon dioxide lasers have been a staple of cosmetic medicine for many years. Traditional CO2 lasers can be sufficient, but they usually involve a lengthy recovery time and possible complications after the procedure. Since SmartSkin® CO2 laser treats the skin in microscopic portions, you can expect healing time to be 5-7 days.
At Comprehensive Dermatology Center of Pasadena, we are always looking for ways to use cutting-edge technology to safely and effectively treat your skin concerns. We chose SmartSkin® CO2 Laser treatment because it uses the advanced SmartSkin® Laser System that allows us to tailor your skin resurfacing treatments and meet your expectations. For example, you may choose to receive two or three "lighter" treatments with beautiful outcomes and limited downtime, or you may want a single treatment that has a slightly longer downtime but outstanding results.
What is PRO-NOX?
PRO-NOX is a revolutionary method of rapid onset pain management and anxiety relief. Essentially, PRO-NOX is a method of local anesthesia that patients can administer to themselves during treatment via inhalation. With PRO-NOX, which is a fixed 50/50 mixture of oxygen and nitrous oxide, the patient gains numerous benefits, such as not having to go under general anesthesia.
Other advantages include:
works almost instantly to provide rapid relief
does not cause lasting effects
will not prolong recovery time
is a very affordable and safe approach
clears from the body within minutes
is entirely non-addictive
Be sure to ask your surgeon if PRO-NOX is suitable for your procedure.
What Will I Experience While Recovering From SmartSkin® CO2 Laser Skin Renewal?
After a consultation with your doctor to determine your particular treatment plan, you will be provided with full instructions and medications for preparation and follow-up care. Avoiding direct exposure to sunlight and other UV radiation is important both before and after your treatments.
Results are visible after healing but will continue to improve over time as your own collagen production continues.
Healing and downtime typically require 5-7 days. We will give you instructions to ease any discomfort and promote good results. You can expect some redness and swelling during this healing period.
How Many SmartSkin® CO2 Laser Treatments Will I Need?
Typically, most patients only need one treatment to reach their desired results. However, we can customize and tailor your treatment to meet your individual expectations and downtime limitations. During your consultation, our staff of skin care experts will create a customized treatment plan for you.
Best Candidates for SmartSkin® CO2 Laser Treatment
The SmartSkin® CO2 laser is an ideal option for you if you have any of the following skin concerns:
Dull, dry skin tone
Subtle lines and deeper wrinkles
Shallow scarring or acne scarring
Skin laxity
Hyperpigmentation or sun damage
Laser Skin Resurfacing in Pasadena
Beautiful, flawless skin is within your reach with SmartSkin® CO2 laser skin resurfacing. At Comprehensive Dermatology Center of Pasadena, our staff of experienced and highly trained dermatologists will help you achieve your skin goals in a safe, effective way. We can tailor your treatment to meet your scheduling needs.
To learn more about laser skin resurfacing in Pasadena, don't hesitate to contact Comprehensive Dermatology Center of Pasadena at (626) 793-7790 or fill out our online form to schedule your personalized consultation with one of our dermatologists today. We look forward to meeting you soon!
Facility
Our treatment suites are equipped with the latest dermatological lasers, for advanced, safe, comfortable treatment of your skin's medical and cosmetic needs. Our in-house Acne Treatment Center offers complete care for all ages and acne stages. We offer a full line of skin care products designed to suit your unique...
View More