SmartSkin® CO2 Laser Skin Renewal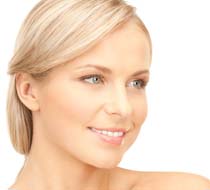 Interested in Laser Skin Renewal?
Click to schedule a complimentary consultation.

Treatment with the SmartSkin® CO2 Micro-Ablative Laser Skin Renewal system provides significant, long-lasting repair and rejuvenation with considerably less discomfort and downtime than surgical procedures or even traditional ablative laser treatments. This system treats scars and advanced signs of aging, as well as a variety of other challenging skin conditions.

The SmartSkin® CO2 laser combines laser resurfacing, collagen stimulation, and skin tightening technologies in one treatment modality. It is completely customizable to your skin's unique needs, your expected results, and your downtime scheduling.

The targeted laser light and focused deep tissue heat speeds the loss of damaged skin, triggering the turnover of healthy new skin cells and stimulating production of your own natural collagen to restore youthful contours.
What Can SmartSkin® CO2 Laser Skin Renewal Do For Me?
The SmartSkin® CO2 laser can treat:
Deep wrinkles
Visible skin damage
Poor skin texture
Actinic keratoses
Solar lentigines
Acne scars
What is a SmartSkin® CO2 Laser Treatment Like?
We use oral pain medication and anesthetic injections to ease discomfort. The laser device glides over your skin, and a series of three treatments is required for optimal results, These are usually scheduled several weeks apart, but each patient's treatment schedule is unique.
What Will I Experience While Recovering From SmartSkin® CO2 Laser Skin Renewal?
After a consultation with your doctor to determine your particular treatment plan, you will be provided with full instructions and medications for preparation and follow-up care. Avoiding direct exposure to sunlight and other UV radiation is important both before and after your treatments.
Results are visible after healing but will continue to improve over time as your own collagen production continues.
Healing and downtime typically require 5-7 days. We will give you instructions to ease any discomfort and promote good results. You can expect some redness and swelling during this healing period.
Facility
Our treatment suites are equipped with the latest dermatological lasers, for advanced, safe, comfortable treatment of your skin's medical and cosmetic needs. Our in-house Acne Treatment Center offers complete care for all ages and acne stages. We offer a full line of skin care products designed to suit your unique...
View More