Chemical Peels
Your face is one of the first things people notice and you no longer have to live with aged, freckled, blotchy, or acne scarred skin. Chemical peels are designed to treat all of these skin issues and more. Chemical peels are a facial treatment that will significantly improve the texture of your face by removing the damaged outer layers of your skin. Once you choose to have a chemical peel, a chemical solution is applied to your skin and allowed to soak in. Over the next one to fourteen days, your skin will peel off and you may feel a tingling or the mild sting of a sunburn. Flaking may occur several days following the peel as the damaged skin is freed and new, unblemished skin cells rise to the surface.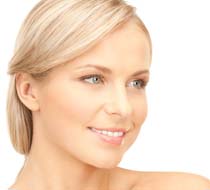 Ready to try a Chemical Peel?
Contact us today for a complimentary consultation.
How Do Chemical Peels Work?
Chemical peels work by loosening then gently sloughing off the damaged skin cells. Chemical peels differ based on how deeply the chemical penetrates and what type of chemical solution is used. Factors that may affect the depth of a peel include the acid concentration in the peeling agent, the number of coats that are applied, and the amount of time allowed before the acid is neutralized. Deeper peels result in more dramatic effects as well as higher risks such as, increased pain, and longer healing time.
Not all chemical peels are created equal and results will vary accordingly from patient to patient. A formula called the "Four C's" has been created to help you better understand how a chemical peel works. The "Four C's" are:
Chemical: In general, the deeper the peel the longer the recovery. A superficial peel produces redness similar to a mild sunburn and lasts three to five days. Medium or deep peels can make the skin look severely burned, sometimes with blistering and peeling for seven to fourteen days. The surgeon will select the best chemical or chemical mix for your situation. A solution is applied using a sponge, cotton pad, cotton swab, or brush to the areas to be treated avoiding the eyes, brows and lips.
Concentration: The concentration of a chemical peel is a huge factor in its strength and penetrability and the Glycolic Peel is a perfect example. The Glycolic Acid Peel 20% yields very superficial to superficial "injury", while the Glycolic Acid Peel 70% will penetrate deep into the epidermis for a medium-depth peel.
Condition: The condition of an individual's skin greatly affects the outcome of a chemical peel. Chemical peels are not recommended for individuals with highly sensitive, infected, sunburned, weak, or dermatitis-prone skin in addition to those predisposed to keloidal or abnormal scarring. If you have an inflamed acne condition, you should choose a peel with anti-bacterial properties such as the Jessner Peel, which has the added benefit of a skin-clearing salicylic acid.
Conduct: Even the lightest chemical peel should be taken seriously. Whatever purpose your chemical peel serves, it is important that you contact one of our professional dermatologists at Comprehensive Dermatology Center of Pasadena and let us look at your skin to evaluate your needs. Whether it is for acne removal, anti-aging, or skin rejuvenation, a chemical peel requires careful conduct before and after your procedure.
What Do Chemical Peels Treat?
Chemical peels provide not only a fresh look, they dramatically rejuvenate your appearance as new skin bathed in collagen and elastin develops, replacing older skin. Chemical peels are known by many different names such as skin peels, facial peels, fruit acid skin peels, AHA Peels, chemical resurfacing, and enzyme peels. When used properly, chemical peels are suitable for all skin types. Chemical peels produce controlled injury to the skin, which promotes the growth of new skin cell regeneration giving you a dramatically improved appearance.
Chemical peels are designed to improve specific skin conditions such as:
Sun damage
Wrinkles and lines under the eyes and mouth area
Acne scarring
Blackheads and whiteheads
Age spots and freckles
Discoloration
Uneven skin tones
Excessive skin oils and breakouts
Enlarged pores
Dark spots from pregnancy also known as a condition called melasma
Strengthening the skin
Acne
Acne scarring
Irregular hyperpigmentation or hypopigmentation
Overall skin health
What Are the Types of Chemical Peels?
Chemical peels are divided into three categories depending on the depth of the wound created by the peel. Superficial peels penetrate the epidermis only, medium peels damage the entire epidermis and papillary dermis, and deep peels create a wound to the level of the midreticular dermis. The depth of the peel is dictated by a number of factors, including the chemicals applied and their concentration, the mode of application, and your skin type and its condition. In general, the depth of the peel determines a patient's inconvenience during and after the procedure, the healing time, the rate of the potential adverse effects, and the results.
In summary, the deeper the peel the longer the recovery. A superficial peel produces redness similar to mild sunburn while medium or deep peels can make the skin look severely burned. Following any chemical peel, it is important to treat your skin gently and avoid sun exposure because the renewed skin will be tender and susceptible to injury. Following a chemical peel, your skin will be tighter, smoother, and look more youthful.
Chemical Peels FAQs
When will I see my results after a chemical peel?
After your skin heals, you will see the visible results. This time frame ranges from one day to fourteen days, depending on the type of peel you choose. Some patients may require multiple peels to get optimal results.
How long chemical peels last?
Although chemical peel results are long-lasting, it does not stop the aging process. Results are also affected by environmental factors (i.e., sun exposure) and lifestyle habits (i.e., smoking, diet, alcohol). Most patients enjoy the results for up to one year or longer if they take care of their health and skin.
Can chemical peels damage skin?
Although chemical peels are a widely tested procedure with several years of use as a safe cosmetic improvement, there are some side-effects you should be aware of:
Persistent redness
Lighter skin color (medium and deep peels).
Temporary darkening of the skin.
Scarring (extremely rare when performed by a dermatologist).
The risk of serious side-effects is higher when post-treatment instructions are not followed, including:
Protecting skin from the sun (sunblock)
Scratching or picking at peeling skin during recovery
Applying makeup before the skin heals
Our Pasadena dermatologists are highly skilled and will do their best to help you prevent any side effects.
How should I prepare for my chemical peel?
It would help if you made preparations for your skin at least two weeks before having your chemical peel, to ensure the best outcome. You should use a fading gel if you are prone to hyperpigmentation to help turn down melanin production. Glycolic acid-based and Retinol based serums are excellent products to use to prepare. Although this two-week preparation will not guarantee you will not have pigmentation issues, it dramatically reduces the risk.
Facility
Our treatment suites are equipped with the latest dermatological lasers, for advanced, safe, comfortable treatment of your skin's medical and cosmetic needs. Our in-house Acne Treatment Center offers complete care for all ages and acne stages. We offer a full line of skin care products designed to suit your unique...
View More